PhotoMix review by Karen Halgren from 3Scrapateers
| | |
| --- | --- |
| | |
When I first opened PhotoMix I was a little bit nervous about using it. I don't do well with layer palettes but I was quickly put to ease once I began putting everything together. I have a hard time reading and understanding directions so I just winged it! Easy Peasy! PM has so many cool features to it that we could play all day and not get the same result . The tutorials are well written and easy to understand. I was struggling with the Text so I emailed the site and within a cpl minutes I had an answer. I figured out a work around and it looks fine.
My photo I applied a matte which is one of several included in the program.
The daisy I applied an oil painting filter to. As easy as highlighting your photo, clicking on the layer and applying your choice of filters.
The flower border I applied a canvas texture to. Simple and easy once again!
Whether you're a beginner or seasoned scrapper Photo Mix will be a FUN program to learn and play with. There is also a free trial download so you can play with it before deciding to buy. Pretty cool!

Here is my page I posted yesterday but forgot to post it here.oops..thanks for the chance to use this cool program!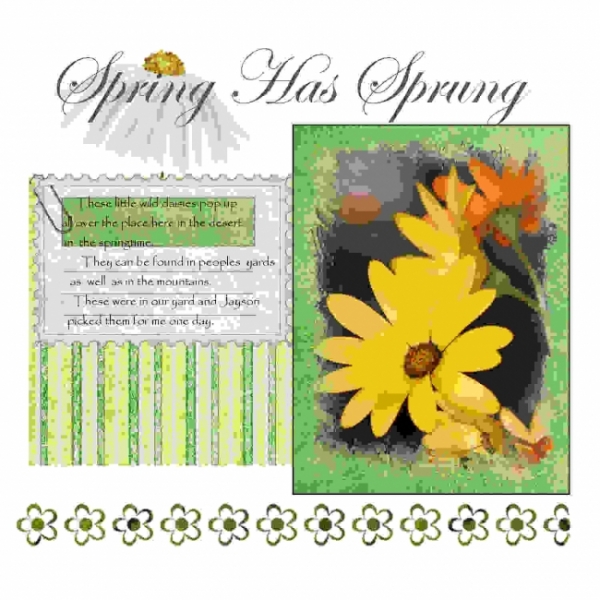 Spring_web_Q_1_5x5
April 15, 2008