PhotoMix review by Audrey Burke from 3Scrapateers
| | |
| --- | --- |
| | |
Photomix -- a great beginning digital scrapbooking software, especially for the price of $29.00.

1) Photomix does a great job for photo collages and has many compositions (similar to templates) already in the program that can be used for this purpose.
2) The tutorials offered at the Photomix website are a great help to getting started. They also offer some "templates" than can be downloaded for free. I made a trifold table-top calendar (but only in b&w since my color printer needs more ink) using a template.
3) One nice feature of Photomix is that each photo or element/paper that is added to the project is stored in the pmj file so that if you open the Photomix file, it will still have the photos "attached" with it. This is helpful if you desire to change the page.
4) With the use of the compositions (think templates), you can either put all the photos on your page and then double click a composition and have the program choose which photo goes where. Or you can apply the composition and the click and drag the photos to whichever frame/spot you desire. There are benefits to both!

Photomix does not offer drop shadows that can be used on the photos or elements which is one effect I would use frequently for realism. It does have a drop shadow effect for the text. I believe this will be in future versions as a plus for digital scrapbooking.

I also was not able to find a way to rotate elements or photos in increments smaller than 90 degrees.

I have found that communication with those at Photomix has been very good as to how how the program works and has been very helpful!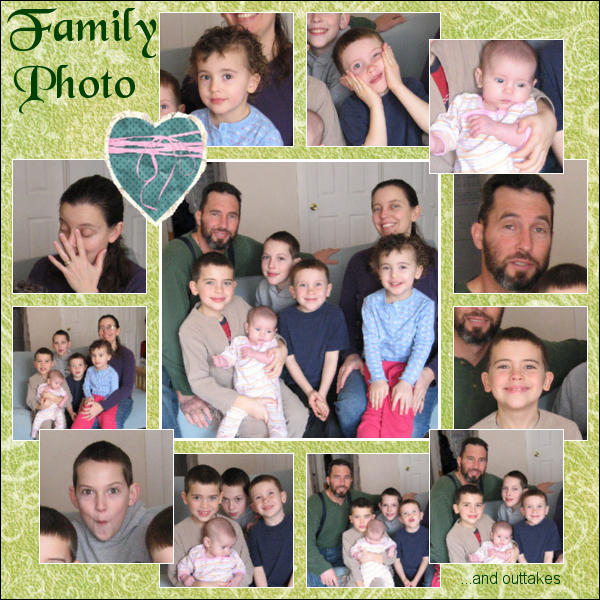 FamilyResized1
April 15, 2008